What karoesell can do for you...
Pick-up service for big furniture & total clearance
No transportation? No problem!
For big furniture such as tables, cabinets or kitchen appliances, we have our very own pick-up service for Eindhoven region. A total clearance of a home is also possible.
If you want us to collect items from your place
just send us a message
or fill in the form, by clicking on the green button on
Ophaalservice
and we will come by at an agreed time. All of this is to improve and support the local communities.
Terms & conditions pick-up service:
The furniture needs to be disassembled and taken down to the ground floor for us to help you as fast as we can.
The furniture has to be in a good condition.
We only plan a visit if it is viable for us, based on the furniture that you offer.
We always ask for pictures in advance before we plan the appointment.
Delivery? Also, no problem!
Everything that we do is for the benefit of this area. If you are new in Eindhoven and looking for secondhand furniture, clothes, electronics, vintage, or books (even in English) Karoesell is the place to go. At Karoesell, you can find great stuff for great prices. During opening hours, we can deliver everything to your home. Just ask our staff in store!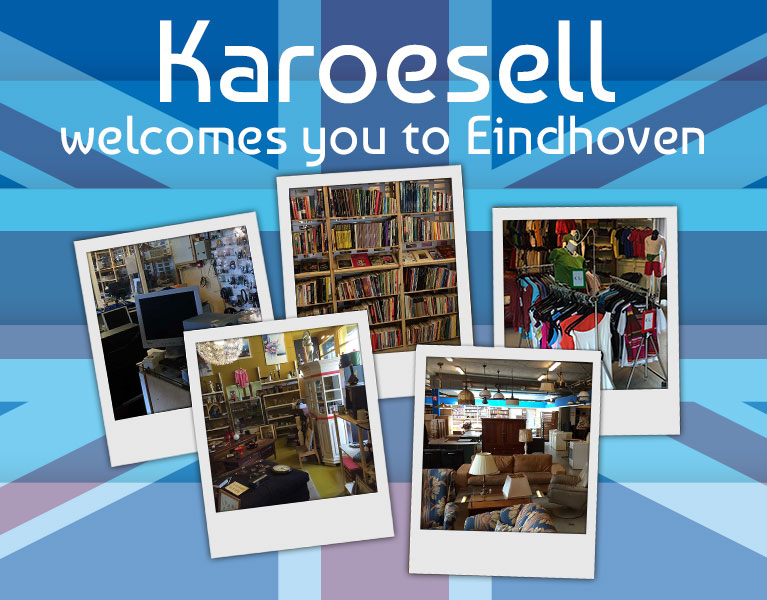 About karoesell…
Charities:
Everything we sell at our store, helps the local community. It is our mission to support them both materially and financially. If you want to know more
just send us a message
or visit us at our store.
Our promise:
We are a social company, 100%. A society build for everyone is what we aspire.
We provide a working space for everybody, and we'll help you along the way.
Our volunteers and employees are professionals.
We are 100% environment friendly when it comes to recycling, reusing and reducing.
We hope to see you soon!